12 Apr 2023
How to Keep Mining Projects On-Schedule & On-Budget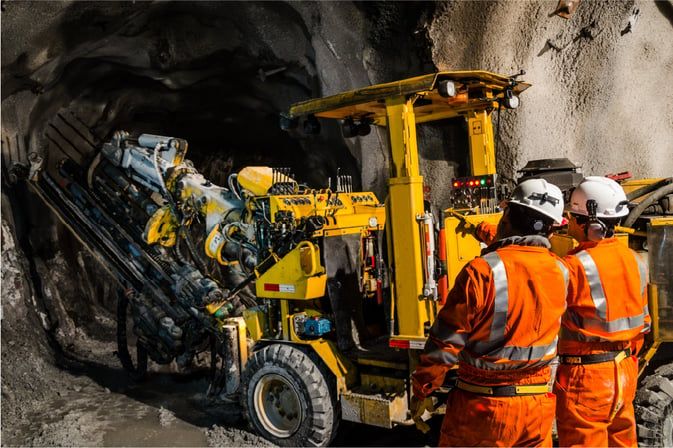 When it comes to the mining industry, it's not unusual to see article after article on how the cloud, AI robotics, and big data can help keep projects on schedule and from going over their budget.
Despite interest in digital transformation, there are still lots of tech headwinds. Some mining companies are slow to adapt technology—even as they face fresh pressure to boost production while simultaneously tackling sustainability.
One thing is clear: mining has a productivity problem.
McKinsey says as many as 4 out of 5 mining projects come in late and over budget by an average of 43%. When it comes to megaprojects, they say it's more like 98% of projects are 30% over budget.
Meanwhile, EY studied 192 global mining and metals projects worth more than $1 billion. They found that 64% ran over budget or schedule – or both – with the average cost overrun sitting at 39%.
How can mining projects—whether large or mega-scale—improve project execution when it comes to budgets and timelines? To get there, mining companies must grapple with many pain points—from having the right skilled labor mix to managing agreement terms correctly.
One of the most critical areas involves contractor-company relationships.
How did we get here? Let's first dig into today's mining industry, what's driving change, and how the industry can overcome its toughest challenges.
The New Global Mining Landscape
Pressure is building around environmental, social, and governance (ESG) efforts and the need for sector-wide digital transformation. As a result, many mining companies are looking to redefine business models to capture value.
Experts say the outlook for mining should be more stable after extreme price swings and shifts in production and demand. Fitch Solutions predicts tighter mining margins, leading to a reduction in exploration and new capital expenditures.
However, companies are still focused on maintaining current operations to ensure output capacity. Fitch also points to an upside to critical mineral projects as governments and investors push green demand.
In fact, the energy transition is driving much of today's global demand. Renewable energy (wind and solar), electric vehicles, and lithium-ion batteries are metals intensive. Plus, there is mining project activity being generated by the electrification and decarbonization of industry.
Just how big is mining globally? The Engineering & Mining Journal notes there are more than 12,000 active capital and maintenance projects in the mining sector representing $1.2 trillion. Of the total value of projects, 19% of that value, or $231.1 billion, are under construction from 2,118 projects.
They also note that almost 4,700 projects totaling $318 billion are projected to start in 2023. However, there will likely be delays in these projects—due to permitting, financing, or other constraints.
How can mining companies offset costs and schedule overruns to maximize value?
McKinsey believes owners and contractors hold the keys when it comes to improving how capital mining projects are planned and executed.
Improving Owner-Contractor Relationships in Mining
In our own study of top executives at 140 mining companies, MCi found:
60% reported projects behind schedule and over budget
11% had enterprise-wide contractor spend of nearly $1 billion per year
Nearly 90% said they use manual spreadsheets to track project metrics, such as completion, productivity, budget, and timeliness
Of those surveyed, almost half (45%) manage 100 or more contractors at their site. Of those, nearly 20% said they manage 200 or more contractors.
Now, think of how much project scope creeps out of its initial bounds when trying to manage each contractor relationship. Working with hundreds of contractor companies makes it difficult to balance contractor cost, quality, and efficiency to keep workflows running smoothly and balance sheets healthy.
The answer?
For starters, companies must build relationships, track expenditures, and have visibility into the effectiveness of the contractor workforce. Spreadsheets simply can't capture the complexity of many contractor relationships on a granular level. Each contractor has multiple agreements, and each agreement has many different terms and conditions.
When we asked the survey group to estimate annual contractor spend (including labor, equipment, and materials), more than 15% reported spending more than $100 million per year on contractor management with a full 23.5% spending $50 million or more.
Reining in spend and exerting capital discipline is a must for the mining industry. These survey results show just how important tighter contractor management controls are for better visibility into every vendor relationship.
Digging deeper into how the mining industry handles contractor management, MCi found the key pain points revolved around having the proper skill mix, manpower visibility, and staying within budget.
As to the proper skill mix, we found a lack of visibility to be at the root of the conflict causing projects to go off course. Mining companies end up spinning their wheels. Even worse—think of the liability when a laborer is working at a site above their skill level along with added costs of unapproved skill step-ups.
By aligning the interests of owners and contractors, McKinsey believes mining companies can ensure that the owner and contractor are working with each other as allies. By operating on the same version of the truth, owners and contractors can have a transparent environment, fostering quicker problem resolution.
Mining Industry at Digital Crossroads
Industrial sectors like mining are turning to technologies to drive efficiencies and improve owner-contractor relationships, according to Deloitte's 2023 Engineering & Construction Industry Outlook.
There is an urgency in mining to embrace tech—especially when trying to safely deliver mining projects on time and within budget. Many turn to tech solutions to boost profits by reducing costs and enhancing project execution. However, global supply chain disruptions, greater competition, worker shortages, and rising material prices point to tech as the antidote for improving productivity.
For example, Deloitte shared how one industrial company used an all-in-one cloud-hosted software for end-to-end workflow estimation. Not only did it help deliver consistent and standardized procedures, but it also ensured they could use best practices to boost accuracy and productivity.
With stronger collaboration, they could then connect users with data on any device to enable efficient project collaboration.
How Track Helps with Contractor Management
The software market can be overwhelming, but the Track Platform is uniquely positioned to benefit mining companies and their operations. Using real-time data, automated tracking, and integrated contract compliance, Track gives unprecedented visibility into your workforce, productivity, and spending.
In fact, one of the world's largest metals and mining corporations with operations in 35 countries turned to Track to improve the visibility of daily onsite operations. The company has more than $33 billion in annual sales revenue and a contractor workforce of more than 100,000.
Through a series of audits, numerous invoicing errors were discovered due to gaps in its current contractor execution process. With 30% to 40% of its total spend allocated to contractor wages, the company desperately needed a solution to meticulously track, manage, and control all costs related to its contractor workforce.
After implementing Track, the company was able to gain control and as well as increase contract compliance, saving an average of 12% annually.