ORBIZ guides mining companies through industry highs and lows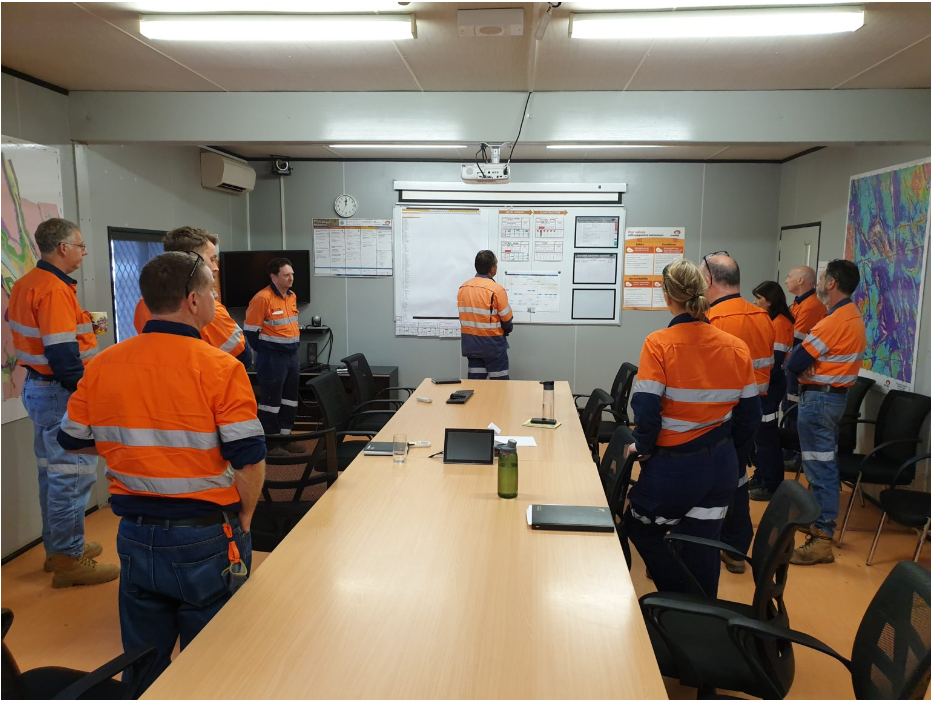 ORBIZ helps companies to streamline their operations to deliver significant and sustainable improvements in bottom line performance. Australian Mining finds out how the ORBIZ methodology has enabled Evolution Mining to optimise operations and maximise value at the Mungari gold mine in Western Australia.
With experience across a range of industries, including rail, construction and mining, ORBIZ deploys its performance specialists to provide expert knowledge that helps companies achieve maximum value for more sustainable operations.
ORBIZ takes it upon itself to become a part of the company it is advising, going on-site to observe the business, make initial reviews and reports, and work together with its client's people to create and implement a plan for improvement.
Consulting manager Mike Troop says he and his colleagues at ORBIZ are rarely found in a corporate office; they work on-site to provide a consistently high level of support every step of the way.
"We're essentially a hands-on implementation support service, working side by side with our clients. It's not a report and walk away type of relationship," Troop tells Australian Mining.
Mining companies generally engage the services of ORBIZ when they are experiencing challenges with operational performance and short-term planning targets or the deployment of strategic objectives such as life of mine and capital plans.
"We advise how businesses can improve their operational effectiveness and then support them to implement the changes," Troop says. "To do this, we identify sustainable ways of driving down internal costs, stabilising operational performance and maximising the efficiency of how mine managers run and operate their assets."
A key area that ORBIZ reviews is the identification and removal of wasteful activities that cause delays to otherwise efficient operations.
ORBIZ generally assists its clients to improve the visibility of performance, establish clear accountabilities, develop an improvement process and promote a collaborative approach between planning, technical services and operations.
ORBIZ services a global client base through a large consulting team which has a background in a range of industries, giving the company a unique blend of knowledge and the ability to enter new industries and quickly adapt.
A key attribute members of the team share is extensive experience working in organisations that are recognised as industry leaders around the world, so they know how highly effective businesses function.
As ORBIZ co-founder and director Peter Walker explains, improving a mine site's operational efficiency often requires an outside point of view to coordinate a forward-looking plan that isn't focussed purely on capital.
"We are not miners here at ORBIZ, but we have a lot of experience improving the performance of mining operations," Walker says.
"Improvements within the mining industry are often capital focussed, mining managers will often look to the design of a plant or a changed orebody as part of the process to improvement.
"The way we typically help organisations to improve their business is by establishing simple systems to visually monitor and manage performance, solve problems as they occur and drive continuous improvement to ensure strategic and tactical objectives are achieved, resulting in reduced capital expenditure and increased output."
ORBIZ operates on a personal level by engaging teams to visualise and understand current processes, then designs and implements solutions that encourage the required leadership routines.
"Our tag line is 'performance specialists," says Troop. "We don't come in with a technology-based solution, what we do is improve the way leaders coordinate and manage their resources to get the best out of what they already have."
ORBIZ offers its services across a multitude of commodities, but frequently works with gold mining companies, due to the price cycle habits of the precious metal that drive the nature of the industry.
The company supports gold producers to reduce their all-in sustaining costs (AISC), improve their margins and increase profitability.
This is achieved throughout the commodity price cycle which ensures maximum profitability during the high end of the cycle and sustainability of the business when the cycle changes and gold prices drop.
Walker says the current climate of record-high gold prices has created a perfect environment for gold operations to consider maximising their value to best take advantage of these extraordinary operating conditions.
"It's the perfect time to capitalise on gold assets," Walker says.
"Not only is the gold price high, it remains in high demand due to the current economic environment."
While ORBIZ is there to assist companies to become more profitable, its programs focus on continuous coaching and development of leadership behaviours and processes, to increase control of performance and the ability to identify and resolve problems.
Troop adds: "After we've completed a review and developed a specific approach on how to tackle the issues we've identified, we work with the site teams to implement the solution from end to end.
"This continues all the way through to an effective handover to ensure maximum benefit over the long-term through sustainability of the new ways of operating."
Evolution Mining's Mungari operation in Western Australia is a gold mining operation that has firsthand experience of the high level of support and service that ORBIZ provides.
While in a transition phase as a mine, Evolution realised the company was not delivering to plan, so approached ORBIZ to help overcome some of the roadblocks the operation was experiencing.
Evolution general manager Andrew Millar says ORBIZ helped the Mungari workforce to not only understand the process of lifting the performance of the mine to its full potential, but also how to continue running the mine in a way to maintain this standard.
"We approached ORBIZ to assist us in getting the line supervision to get a better understanding of the current state of the operation and in developing plans to improve. You can only improve if you fully understand the issues," Millar tells Australian Mining.
"The ORBIZ process was to transfer the information from spreadsheets to some really simple and visual-like problem-solving tools.
"The process is very much focussed on taking people on the journey and is customised for each different business."
With this process, Millar was able to educate his supervisors and other staff to allow them to manage and control the processes.
This gave the Evolution staff ownership of the outcomes and changes in the business, but also made it a more involved procedure for all staff from a grassroots level up, rather than everything coming from higher management.
The ORBIZ techniques to keep value in gold businesses throughout the price cycle suits Evolution's business model to be sustainable throughout downturns and strong in upturns.
"At Evolution we set high targets. Our business needs to be sustainable in a low gold price environment and in the current times of a high gold price environment we need to ensure we maintain our cost discipline and higher prices directly result in higher margins," Millar explains.
"We certainly don't control gold prices but it's our job to be in a position where we can run the business to get the real value out of periods like now, where we're seeing high gold prices."
Now, a year and a half since ORBIZ first started working with the Evolution team at Mungari, the gold miner is on track in leading the process within different areas of the business.
"We identified seven 'champions' on site who are now leading the process within their areas rather than relying on ORBIZ to do the job for them," Millar says.
"ORBIZ still come to site to complete audits and ensure sustainability, but we are well into moving on to the next phase of collecting the data, managing it correctly and understanding our opportunities.
"Mungari has delivered a very positive transformation and is now a key growth asset in Evolution's portfolio."
Originally published in Australian Mining Magazine:
https://australianmining.com.au/orbiz-guides-mining-companies-through-industry-highs-and-lows/